Baked Chicken Wings Recipe with Honey and Soy Sauce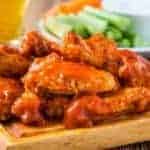 Chicken is definitely one of the main companies of our meals, so we have the recipe of Baked Chicken Wings accompanied with honey and soy sauce a combination of irresistible flavors.
Ingredients to make Baked Chicken Wings with Honey and Soy Sauce
8 Chicken Wings.
3 Tablespoons soy sauce.
Salt and pepper to taste.
Sesame seeds, lime peel zest.
For the Sauce
2 spoonfuls of soy sauce.
3 tablespoons of ketchup or BBQ sauce.
2 spoonfuls of honey.
Steps to prepare Baked Chicken Wings with Honey and Soy Sauce
In a bowl add the chicken wings along with a little salt and pepper to taste, add the 3 tablespoons of soy sauce and stir.
Continue stirring with tweezers, spoons, or with your bare hands so that the wings mix very well, (remember to wash your hands properly).
Proceed to cover the wings with film paper and let them rest in the fridge for about 30 minutes, the longer the better.
Now preheat the oven to 200oC with heat up and down as well as the fan.
Place the chicken wings separated from each other with the skin facing up on a baking sheet lined with baking paper.
Now proceed to place the tray in the oven at medium height and you should bake them for about 10 minutes.
Pasos para preparar la Salsa
While the wings are in the oven we prepare the sauce, we only mix in a small bowl the soy sauce, ketchup, or BBQ sauce with the honey.
Returning to the oven with the wings, we remove them and turn them with a few tweezers and reintroduce it for the same time.
Take them out again, paint them with a cooking brush on top with the sauce, turn them over, paint them again over and again oven about 5 minutes or until you see that they are golden and to your liking. In total, the baking usually is between 25 and 30 minutes.

Serve well together on a plate and sprinkle on top of sesame seeds, little chopped chives and zest of lime peel.