Chickpea with Spinach Diabetics Recipe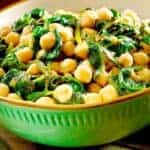 A rich nutritional dish excellent for diabetic people, chickpeas with fresh spinach, we add ready-made legumes to make the preparation faster, a healthy and nutritious dish.
Ingredients for Chickpeas with Spinach
650 grams of cooked chickpeas.
250 grams of spinach.
12 garlic cloves.
3 teaspoons of sweet paprika.
125 milliliters of water.
Olive oil.
Come out to taste.
Pepper to taste.
Steps to prepare Chickpeas with Spinach
Start by peeling and chopping the garlic, put a little oil in a pan and add the garlic, cook over medium heat until golden brown.
Add the paprika and see, add the chopped spinach and a little salt to taste, then add plenty of oil or 125 ml of water this is for the spinach to cook, then leave it for about 5 minutes.
Add the cooked chickpeas and bake, let them cook for about 5 minutes more and ready, you can serve them.