Recipe of Herring Locrio with Avocado and Fries Bananas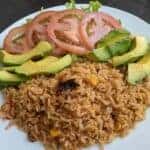 In the herring locrium a rich recipe of Dominican cuisine, you will love to make it from time to time with two ingredients from faraway places that combine in a deliciously tropical and Dominican dish.
Ingredients
2 pounds smoked herring.
5 teaspoons of oil.
1/4 cup chopped celery.
1 cup diced uyama (optional).
1/4 cup diced pepper.
1/4 cup capers (optional).
1 teaspoon crushed garlic.
1 cup tomato sauce.
1 de perejil finamente picado (es opcional).
1 1/2 teaspoon finely chopped parsley (optional).
4 teaspoons of salt (optional). 4 cups rice.
Steps to make Herring Locrio
We start leaving the herring soaked in 1 gallon of water for several hours, then remove this water.
Boil the herring in half a gallon of clean water until it starts to get rid.
Now we let cool, take out the water and set aside 4 cups of that water, get rid of the skin and spines.
In a cauldron heat the oil a little, add the celery, auyama, pepper and garlic. Stir and add caper and tomato sauce. Stir until all ingredients are mixed and add herring by stirring. Pour in the liquid you stocked, and season with salt to taste if necessary. It's about to boil.
When it starts to boil, add the rice and stir regularly to prevent it from burning in the bottom.
When all the water evaporates, cover with an airtight lid and cook over low heat for about 15 minutes.
Uncover, stir, and cover again.
Cook another 5 minutes. Try the rice, it should be firm but soft.
If necessary, cover and leave another 5 minutes on a very low heat.