Pumpkin Lasagna Recipe with Ham and Cheese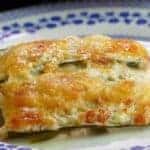 Light and healthy Lasagna recipe, the best meal combinations, Pumpkin Lasagna sliced with a touch of vegetables and ham, this will create an amazing flavor.
Lasagna Ingredients
For the Sauce
1 garlic clove.
1/4 cup of light cream cheese.
1 1/2 cup of whole milk.
Salt taste
For the Filling
2 tablespoon olive oil.
1/2 cup finely chopped onion.
1/4 cup of finely chopped celery.
1 cup of tomato in cubes.
1/4 cup of corn grain, canned yellow and drained.
1 teaspoon of ground oregano.
Salt taste
For Greasing
Enough aerosol oil for greasing.
Other Ingredients
6 1/2 centimeter thick sliced pumpkins.
1/2 Packs of Ham, of your preference.
2 cup of Manchego cheese, grated.
For Decor
Enough finely chopped parsley.
To Accompany
Enough salad of your choice.
How to prepare Lasagna
For the sauce, blend the garlic with the cream cheese light, whole milk, and enough salt, until a consistent mixture is obtained.
Pour the sauce into a hot saucepan over low heat and cook until the consistency becomes thick while still moving. Remove from heat and set aside.
For the filling, heat olive oil in a large frying pan, saute the onion and celery, i.e. keep over medium heat while still moving, until the vegetables show a bright color.
Add the tomato, yellow elote, and oregano. Season with salt and pepper, cook for 5 minutes, and remove from the heat. Let cool.
Preheat the oven to 180°C.
Grease a rectangular baking dish or a little olive oil with aerosol oil. Assemble the lasagna, first place a layer of pumpkin slices, then white sauce to cover, vegetable filling, LALA ham slices® Plenia® Turkey Virginia, and finally the grated manchego cheese.
Repeat the above process until the refractory is filled and finish with cheese on the surface. Bake for 25 minutes, at 180oC.
Garnish with fresh parsley, cut and serve hot. Accompany with a green salad.